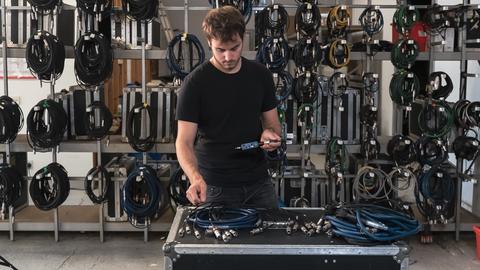 Hi!
I'm David, founder of Sonnect and inventor of the Sound Bullet. I wanted to share my story with you, why I created the Sound Bullet and how the products I create can help you become more efficient and confident in your daily tasks as a sound engineer.
I'm a sound engineer by day and a "head-scratcher" by night.
Was this the path I was destined to follow? Well, my father is a well-established electronics manufacturer and business owner in Italy, so it was likely that I was to follow in father's footsteps but I took a slightly different path to get there.
I always loved understanding the technical side of things and solving complex scenarios, and this is where I found my love for sound engineering.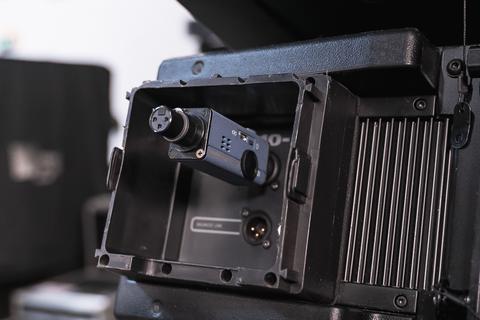 In my work I configure and navigate complex audio setups daily. Whether it is for an award ceremony of one hand-held microphone or to the other end of the scale where I may be setting up 56 lines for a full orchestra at the BBC Proms, I enjoy problem-solving and the effort it takes to make everything work in sync with one another.
If you are a sound engineer you can relate that not everything always goes to plan as it should.
Yes there are f**k up's and let's be honest, nobody wants to be the guy getting the blame for them but instead, everyone wants to be the guy who "fixes it". You can be the best sound engineer with the best sound equipment but all it takes is one dodgy cable or an unchecked signal path to cause real issues in real-time.
I've been a sound engineer for over 10 years and have set up audio for thousands of events. There are great products out there that have helped me to check lines, create pink noise, test XLR cables, but I struggled to find something that would encompass all of the tests I needed to do.
Working on an event as a sound engineer is like going running, you don't want to carry lots of bulky things with you. I've always found that the few tools I have on while working are very compact, for example my black and white tapes, my twin-tip Sharpie and my Leatherman.
Making this ideal tool has always been in the back of my mind, I used to stare at an XLR connector, thinking… 'How the heck do you generate pink noise without a synthesizer?? ..Surely I can fit the tiniest speaker in there'. I realised I needed to make this thing!
So I got to work. In the space of 4 months I managed to make my first prototype which pretty much performed all of the tests I needed. It generated pink noise, amplified an incoming balanced/unbalanced signal and reproduced it through the miniature speaker (which I took from an old phone). I was elated to see that it worked!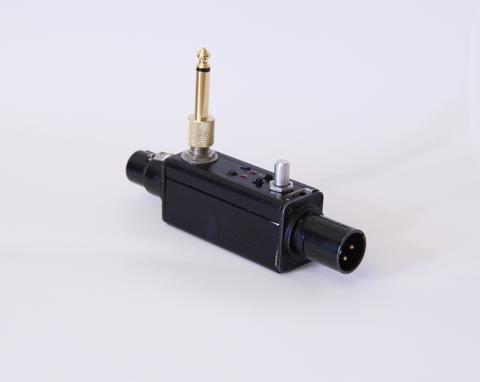 I used this little box every time I installed an audio set-up, it was so damn useful to me in that it made my routine of checking lines and equipment so much faster, but most importantly 100% trustworthy. It became so obvious to me that what makes me feel more confident as a sound engineer is to be reassured that the infrastructure we operate upon – with which we make things sound good – works.
But it didn't stop there for me, I wanted to make it even better. I thought, what if I could also check 48V with this? What if I stick an input meter in there..? This device has female and male XLRs, maybe I could make it test the pins of an XLR cable as well? This device has benefitted me for a long time, why not make it available to everyone else too?
So I spoke to my father about the idea, pitched it and he was bought in. I began working with the team in Italy on the drawings, electronics and soon enough new prototypes were getting created. My idea was coming to life!
Seeing my creation turn into a reality has been humbling, and understanding how this can impact others' working lives is really exciting for me.
So what is the Sound Bullet? Let me tell you more about what it can do for you and you'll see why I can't wait to share it with you!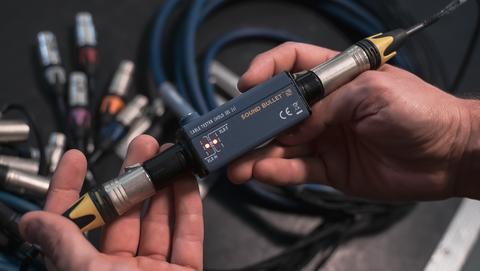 The Sound Bullet is a pocket-sized audio signal and wiring verification device designed to help your workflow. A quick and handy powerful tool that can be used as a substitute for each element that handles audio, helping you locate any faults quickly and effectively – especially useful in high-pressure situations.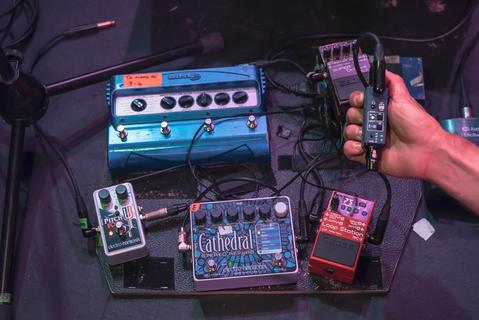 The Sound Bullet is used as a preventative tool for quick diagnosis and troubleshooting problems with complex audio setups. Use it to check for any potential malfunctioning elements such as microphones, cables, connectors, processors or speakers with your Sound Bullet. The Sound Bullet is conceived for applications ranging from live entertainment audio installation to studio recording, broadcast and television.
Now you can see why you need it for your next gig!
So where are we now and how can you get one? Well, after many late nights in the factory, trips to Italy and thorough testing, the Sound Bullet is now ready for purchase. After a successful pre-order launch we have started shipping out the first orders, which is crazy for me to see! So thank you again for your support and for believing in the idea and the product. If you have any questions you can reach me at hello@sonnect.com or feel free to join our Facebook group and follow us on socials Facebook and Instagram.
I'm excited to embark on this journey with you all, and hope that my product can help you become more efficient and be your go-to trouble-shooter device on the job!
Thanks,
David Scorteccia – Founder of Sonnect and inventor of the Sound Bullet